When you arrive at Langdon Hall, your first touch point is the Front Desk. The people behind the desk are your first interaction – they set the tone for the entirety of your stay and act as the unofficial first impression of our property. That's why the people standing behind the desk are so important. Whether it's directions to your room, information about activities on the property, or simply a friendly conversation, our Front Desk staff does it all.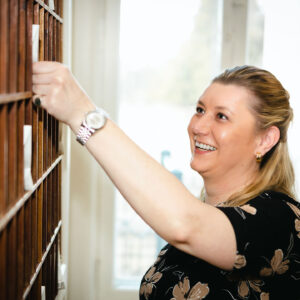 Our Front Desk staff is knowledgeable, yes. More importantly, they're personable and this is what keeps people coming back. Laura Griffiths, who has been working at our Front Desk for a little over 6 months, is the perfect representation of this. "If there's one thing I'm thankful the universe gave me, it's the 'gift of the gab,'" laughs Laura.
Laura truly does have the gift of the gab – she's approachable, warm and very easy to talk to. While she certainly has the personality for customer service, it's clear after getting to know her that her life experiences have shaped who she is as an employee, but more so, as a person.
Growing up, the outdoors were a huge part of Laura's summers. "I grew up in Toronto, but I used to go to this camp in Algonquin every summer," explains Laura. "We would do canoe trips that would get longer as you got older. By the end of high school, I was leading canoe trips in Algonquin Park, Temagami, parts of Western Quebec and Quetico Provincial Park."
After completing her undergrad at Dalhousie University, it was Laura's interest in outdoor leadership that encouraged her to enroll in the Wilderness Leadership Program at Capilano College in Squamish, British Columbia, as well as the Wilderness Education Program through the Voyageur Outward Bound School in Texas. From there, Laura became an Outward Bound instructor in Maine at the age of 26.
Although Laura was passionate about the outdoors, after a few years she began to rethink her career path. Returning to Toronto, she enrolled in Human Resource Management at Ryerson University. After finishing the program, Laura went on to work for various hotels in Banff, Alberta and Muskoka, Ontario before moving back to Toronto where she worked as a Guest Services Agent for the Bank of Montreal.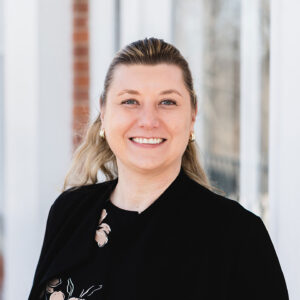 "While I was working for BMO I remember I had this bump on my head," says Laura. "My family had started suggesting I go get it checked out and to my shock it turned out to be a brain tumor." In 2011, Laura was diagnosed with a meningioma tumor in the left side of her brain. "It wasn't cancerous, but the surgery to remove it was about 11 hours," explains Laura. "Other than that bump on my head, I had absolutely no symptoms and I'm just so glad I got checked out when I did because it could have been so much worse."
Laura was also born with middle ear nerve damage, so she wears hearing aids daily. "Both of these instances have made me really appreciate how precious life is," says Laura. "I've also become the hearing aid guru for people like my mom who can't figure out how to connect her hearing aids to Bluetooth," she laughs.
If you've been at the property over the last few months, you've likely had the pleasure of speaking with Laura. She has this joy and warmth to her, despite facing what some would see as obstacles. Her gift of the gab gives her the ability to talk to anyone, but her hearing loss has enabled her to truly listen to the people around her. We often take the simplest things in life for granted, our ability to hear being one of them. Despite her hearing loss, Laura listens better than just about anyone with perfect hearing.
"Growing up doing those canoe trips and working in guest-facing roles has really given me this confidence and a sense of independence," explains Laura. After successfully recovering from the removal of her tumour in 2011, Laura knew hotels were where she wanted to be moving forward and worked for Sherwood Inn on Lake Joseph in Muskoka before ultimately working at Langdon Hall.
Although she's looking for a home in Cambridge, Laura has spent the past 6 months commuting from Toronto to Cambridge to work the Front Desk here, even staying at a hotel some nights when the commute becomes too tiring. "I just knew I wanted to work here," says Laura. "I had attended a wedding here a few years back so I was very aware of Langdon Hall and all its awesomeness. The food, the grounds, the rooms… everything here is magical."
Laura's commitment to Langdon Hall, but more importantly to its people speaks volumes. You can feel her passion and her zest for life when you speak to her. We pride ourselves in making each guest feel special, and it's because of people like Laura that we deliver day-in and day-out.
If you take anything away from Laura's story, remember to simply be kind to people. It's the simplest, yet most impactful thing we can do. If you see Laura, make sure you ask her about those trips in Algonquin – it's quite the story!