Professional & Beautiful Meeting Venues
Whether you are planning a small business conference or an executive board meeting, Langdon Hall has everything you need to make your next business meeting a success.
Offering the perfect escape to focus, our Relais & Châteaux property boasts 60 elegant guest rooms, a Five-Diamond dining restaurant, and an award-winning spa you'll want to incorporate into your visit. We are located one hour from Toronto, London and Hamilton, and are minutes off Highway 401.
ROOM
1/2 Rounds Format: Up to 75 participants
Classroom Format: Up to 75 participants
Hollow: Up to 60 participants
U-Shape: Up to 60 participants
HALL
Meeting Capacity: Up to 50 participants
Dining Capacity: Up to 72 participants
The recently completed Firshade Hall and Room offers the perfect setting for meeting events requiring natural light, stunning views, and accessible meeting amenities (audio and visual requirements). There are two walls of windows within this meeting space that overlook the famed vegetable garden and croquet lawns, 14 foot ceilings, and a climate controlled atmosphere.
There are three screens within the meeting space displaying the same presentation to three sides of the room from the ceiling mounted projection units. For breakout space, the Hall can divide into three private sections for up to 12 participants each.
ROOM
1/2 Rounds Format: Up to 48 participants
Classroom Format: Up to 60 participants
Hollow: Up to 45 participants
U-Shape: Up to 35 participants
Located across the courtyard from the Main House, this meeting room of 1300 square feet features floor to ceiling windows that overlook the apple orchard and grasslands. Through the glass window French doors guests can access the wrap around veranda that is ideal for breaks and meals.
The room boasts a sound system with microphone, two built-in rear view projection units for computer or video presentations, which are located on opposite walls, numerous built-in cork and white boards, multiple computer access points, which are located throughout the room, wireless internet and beverage stations.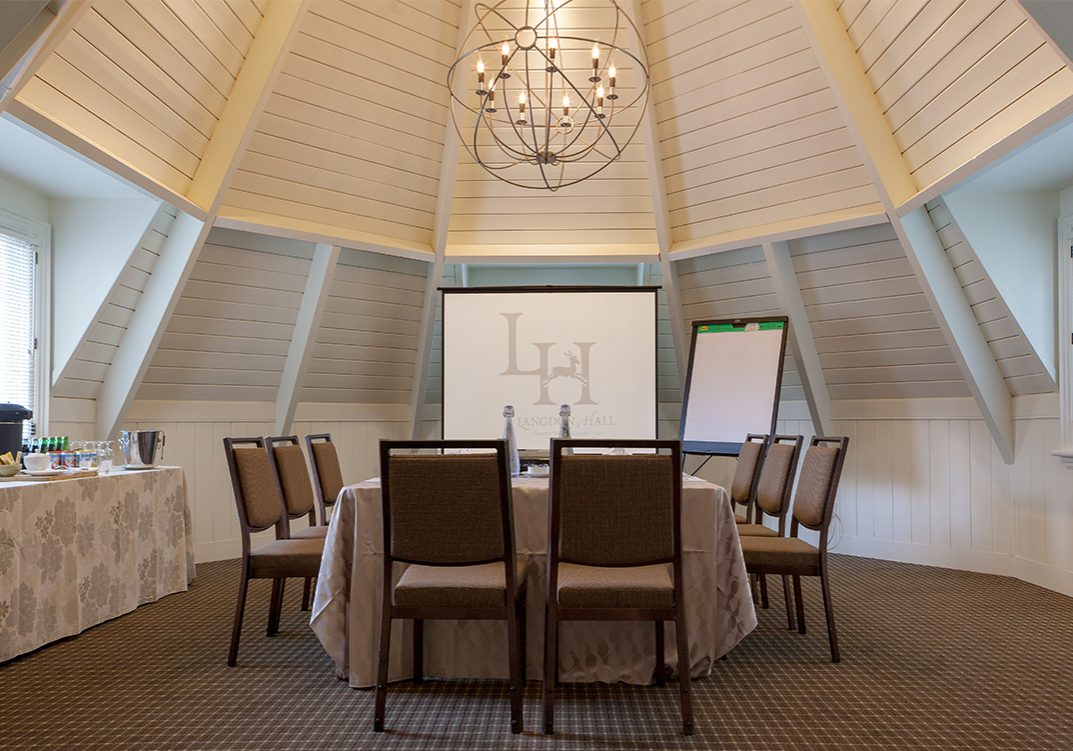 ROOM
Capacity: Up to 10 participants
Located on the upper level of the Cloisters with a delightful view of the gardens, the Spire is ideally suited for smaller seminars or informal discussion groups for 10 people.
ROOM
Capacity: Up to 12 participants
This function room in the Main House was the original dining room for the house and features a fireplace and windows overlooking the grounds.
The room features a large mahogany table that can comfortably seat up to 14 people for a meeting or up to 22 guests for a dinner party. Adjoining the main room is a private conservatory that can be used as a breakout or can be set for a working breakfast or lunch, and acts as a beverage station area throughout the meeting.
ROOM
Capacity: Up to 30 participants
Located across the courtyard from the Main House, this meeting room of 1,020 square feet features natural light with four sets of picture windows overlooking the woodlands, lilypond, and a walkout onto a terrace area.
The Carolinian Room can be equipped with a built in 60-inch monitor or 72-inch screen for presentations.
Meeting groups can provide their own LCD projector or Langdon Hall can arrange a rental. An adjoining breakout room can be reserved in addition for a fee. This additional space can seat up to 10 people, and can accommodate a beverage station.
Meeting Packages + Resources