Call it a vibe, call it an aura – whatever you want to call it, there are some people who exude light. Esther Dawson is one of those people. Esther started with Langdon Hall in the Dining Room as a hostess in 2017. Since then, Esther has been a back server, expo, an evening server in the Dining Room, and now holds the title of Sommelier Apprentice.
For Esther, being at Langdon Hall has helped forge her career, but it didn't start that way. "A few people I went to school with worked at Langdon Hall, so when I finished school I thought it would be a great way to enter the workforce and have an income – I never thought I'd be here five years later," laughs Esther.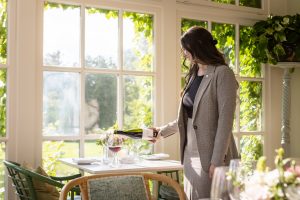 Esther went to Heritage College & Seminary here in Cambridge, completing a double major in music and theology. "My dad is a Pastor in my hometown of Uxbridge, Ontario and my mom is a music teacher, so I pulled inspiration from my parents for my major," says Esther.
"I really just saw Langdon Hall as a stepping stone after I graduated, but after working here for a few months I realized it was going to be so much more than that."
There are very few people who have worked in every position in the Dining Room, but Esther is one of them. It gives her a unique knowledge of how the Dining Room works and you can tell fellow employees lean on her. Esther is not only extremely approachable, but treats each of her colleagues with warmth and respect, so it's no wonder she's the go-to for advice.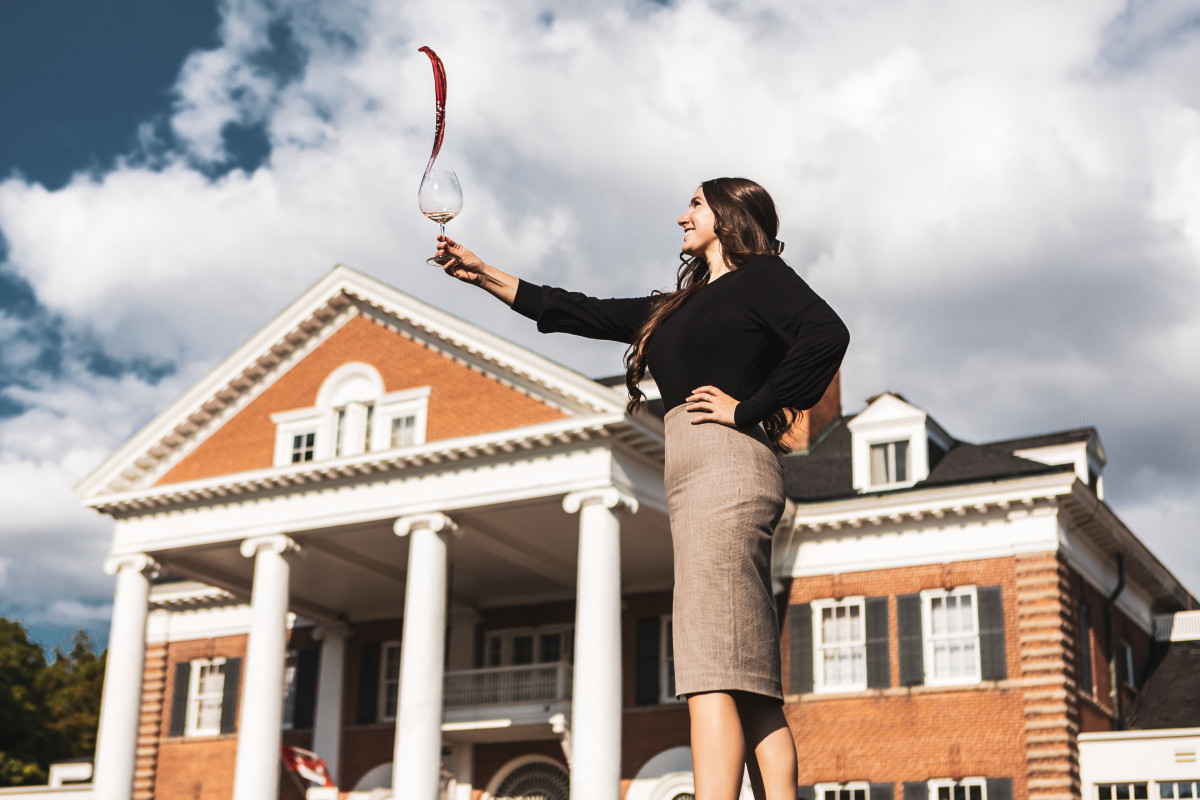 When the pandemic hit, Esther had already been working at Langdon for about 3 years, and was ready to take the next step in her career. "As a Dining Room server, you work closely with the Sommeliers," explains Esther. "I had started to get a feel for what a Sommelier does, and I realized wine studies was something I wanted to pursue."
However, at this time Esther was also in the midst of completing her Masters of Theological Studies at McMaster University. "At that point, I was working on my theological studies and my wine studies at the same time, but it was too much to do both," says Esther. "During the pandemic, I needed to decide which one I want to commit to. I ended up choosing wine and dropped my masters."
Alongside another Langdon Hall employee, Esther embarked on her journey towards becoming a certified Sommelier. She completed Level 1, 2 and 3 of her certification through the Wine & Spirit Education Trust (WSET) as well as an introductory course through the Court of Master Sommeliers (CMS). Esther's official title is Sommelier Apprentice, because there is one more test she has to take to become fully certified.
"There's one last test I need to take to become a fully certified Sommelier," says Esther. "I'm waiting for the next test date to be announced, but I'm really hoping it will happen this fall."
Truth be told, you'd never think Esther is simply an apprentice. The knowledge she has, as well as the ease and confidence she has conducted herself with since joining the team in 2017 has carried over into this new role. Whether you've worked alongside Esther for five minutes or five years, you can instantly feel her passion and see her commitment to the guests and her colleagues.
"I love this place because of the community. We work so closely together, it's hard not to become a family," laughs Esther. "The support I've received through not only management, but also my colleagues has been amazing. I wouldn't be where I am without their encouragement and guidance, so I do my best to pay it back and continue to pay it forward."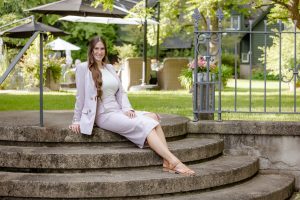 Had Esther not found a family in Langdon Hall, she'd be working in Marketing. In fact, Esther helps run the social media accounts for multiple wineries and organizations, including Femmes Du Vin, a grassroots women's organization dedicated to amplifying the voices of women in wine – an organization Langdon Hall has had the pleasure of working with on multiple occasions.
Esther also does photography, and you can see her creative eye through the art direction she gave her own photoshoot. That wine splash was her idea!
She is also a phenomenal singer, so we're told – she declined an impromptu performance during her interview. For this reason, we ask that next time you see Esther at Langdon Hall, you do your best to get a song out of her! We can only imagine how wonderful her voice sounds.
Esther wears many hats in her personal life, as she has throughout her time at Langdon Hall. While we've only scratched the surface, it is clear that at the age of 27, Esther has the depth, experience and wisdom of someone three times her age. The light she exudes is apparent to anyone who crosses her path, and we're so lucky to have her with us.
"It sounds cheesy, but my job is to make people happy and that's not hard to accomplish at Langdon Hall," says Esther. "It's such an honour to work here."
We look forward to watching Esther continue to evolve both personally and professionally. It was a pleasure, Esther.