Since March 2020, our lives have been flipped upside down. Each person and industry was affected, with the hospitality industry facing numerous shut downs, restrictions, layoffs and more. It's been tough for all, and certainly tough on Langdon Hall and our wonderful employees.
A bright spot in all of this has been some of the amazing people we've met along the way. We have been fortunate enough to add many new faces to our team since coming out of the last Ontario shut down in June 2021 – one of those smiling face being Bryanne Buckmuller, who oversees our Social & Corporate Sales.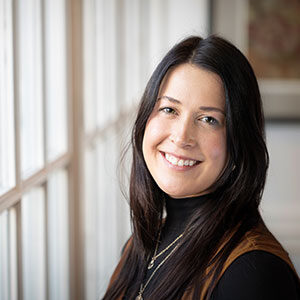 Bryanne joined the team in July 2021, at a time where corporate events and the future of events as a whole was unknown. "I left a work-from-home job in the meeting & events industry where my mornings started with deciding what matching sweat suit I would wear that day," reminisces Bryanne. "Within my first few weeks at Langdon Hall, corporate event inquiries were coming in full-speed."
What many people here at Langdon Hall won't readily tell you is that the summer was tough. We went from being 100% shut down to 200% open in the matter of weeks. We were fortunate to see our guests and our corporate groups return at rates which we had never seen before, but with that came many challenges. In many ways, we had to re-invent ourselves to meet ever-changing restrictions. We relied on our staff to rise to this challenge, and Bryanne did so with a smile on her face.
"When I came to Langdon Hall for the first time as a leisure guest, then again a few months later for my interview, I was blown away by how kind everyone was," says Bryanne. "Langdon Hall welcomes you with such a warm embrace. The staff, grounds and food gave me a lasting impression that helped me understand why guests return again and again – as a new team member, I wanted to embody this for future guests."
Bryanne has certainly accomplished her goal. Whether it be a site tour for a wedding, or planning out every last detail of your corporate retreat, Bryanne offers that same warm embrace to each person she works with. If you've been fortunate enough to meet Bryanne, you can attest to her humor, her big smile and her approachability. At a time where planning events has been so uncertain, Bryanne lends a steadying hand.
"The hospitality industry is massive," describes Bryanne. "Somehow, despite its enormity, everyone connects in some way. Throughout these uncertain times, I've seen the industry come together and rise above what seemed like an insurmountable challenge. Luckily, the hospitality industry is ever-changing, and has always thrived throughout its ebbs and flows – I'm fortunate to be part of that."
And we're fortunate to have someone like Bryanne part of our team. Bryanne drank espresso martinis before they were trendy, loves to bake, can be found on the dancefloor for any ABBA song and will inevitably cry tears of joy at any chance she has to swim in the ocean.
"How do I even talk about myself?" laughs Bryanne. "My core values were instilled in me by my amazing and supportive parents: keep your head high, embrace change, and eat all the food on your plate." Words to live by, if you ask us.
As we wrap up another calendar year, we encourage you to embrace Bryanne's values. Looking back on this year, we know it's because of people like Bryanne that Langdon Hall has been able to rise above the challenges we have faced. It's hard to say what the future will hold, but we're confident that with our amazing staff, we'll continue to push past any obstacle.